This memorial website was created in the memory of our little

princess

Paige Leigh Currie

who was born in Aberdeen, Scotland, United Kingdom

on Monday December 19th 2005

and fell asleep on Tuesday December 20th 2005.

We will remember her forever. She is always in our hearts.


Please feel free to view a video of our darling baby girl
paige-leigh click on link below.
(you need to stop the music on Paige-Leigh's website for you
to hear the music in paige's video)

www.onetruemedia.com/shared?p=139e4fa5103633d6c9b17e&skin_id=0&utm_
source=otm&utm_medium=text_url


Paige was our much wanted daughter who went to play with

the angels Paige was born at 20:35pm she

fell asleep aged 5hrs 25min.
Our story begins

Our story begins 9th October when we 1st meet. Not long after we started going out i discovered i was pregnant in the December
but my last period was a few months before so i would of been
about 2 months. our world was shattered only a month later when i
started to bleed it was th e 26th of January 2000. We went to the
hospital and was there for 9 hours before they told us that the
pregnancy was gone and it was due to a molar pregnancy. While in
the hospital i took tablets to try and empty my womb. After a while
i started to have contractions and it hurt like hell. We filled out a certificate with our babies name on it - Becca Leigh and Dylan.
After leaving the hospital i was in constant pain. A couple of
days later the hospital phoned to say that they never got everything
out of me so i would have to have a operation called a D&C. The operation went find and i was sent away again on the strict
instructions that i must send a urine sample away once a month for
the next 6 months and i must not get pregnant. I bleed constantly
for nearly 4 months before the bleeding started to calm down and
stop. After about a year we decided to try again. We found it difficult
to conceive and i started to wonder if the pregnancy had something
to do with it or the operation as it was similar to the procedure carried out for abortions. I started to panic that my tubes had been damaged during the operation. We decided to go to our dr in 2003 and they said they would refer us to the fertility clinic
We had been attending the fertility clinic for 2 years several tests
later that both me and my partner had to take and believe me men
have it so easy where as for us its a nightmare and we come of the worse. It was hell to attend this appointments as we felt as if
they were not helping us. Then in June 2005 i had the very final
of tests - the dye test.At the end of June we went to get our results.
The test results were clear thee was nothing wrong with us
we had unexplained fertility. We were to be put on the IVF waiting
list and to start a course of clomid at our next appointment in
August.That appointment never came and neither did my Af.
On August the 8th my pregnancy test read POSITIVE - out of
the bathroom into the bedroom saying "we did it i'm pregnant" the response i got back was "how did that happen" DOH! the shock from trying so long.We had an early scan at 6wks to see if the baby had formed correctly (a previous pregnancy had ended in heartache in
2000 and we had a risk of it happening again) Then 4wks later i
had another scan our baby was bouncing all over the place so cute.
Over the next few weeks we started to get everything organised we painted the baby's room, talked about baby names and bought stuff
for our baby. Eventually our baby had everything and more so spoilt
and not even born yet.We then had our 20wk scan so excitied what
were we having a boy or a girl. It was revealed that i was actually 22wk+4days pregnant and we were having a girl.
The 19th December was like any other day i had sore hips as
usual but nothing else. I went to work as normal and by lunchtime
my hips were really sore but thought nothing of it as i had it since
day one practically but i mentioned it to hubby that hips were sorer than usual. By 4pm i was knackered so i lay on the settee to see if i
could sleep but i was so uncomfy i couldn't sleep. By dinner time i
was hungry, uncomfy and tired, i managed to eat a chicken
sandwich and by god did it not make me feel worse. Hubby came in
for his dinner around 6pm and i mentioned to him i felt terrible so
we listened in one the wee one and we could hear her and she was kicking and having a good old bounce around my tummy she was a right little mover giving her mammy jip. Having our minds put to
rest hubby went back to work. At around 6:30pm the chicken sandwich was coming back with a vengeance or so i thought it was giving me a really sore belly. After a number of trips to the toilet i found myself there once again thinking that chicken sandwich had been off as my belly was starting to feel really really bad. Back downstairs i noticed the pain in my tummy was coming and going
and it had a rhythm to it every 2 minutes and lasting for 30 seconds.
I stood up from the settee and i noticed the blood. i went back to
the toilet and there it was bright as any thing blood. Phoning my hubby, then my mam, and then my hubby again god would i ever get
an answer, phoning my mil i got an answer thank god told her what
was happening and hung up, i also managed to get hold of my mum
too and i had phoned the hospital who told me to phone for an ambulance. i was in pain and was panicking like mad would the
baby be okay. The ambulance arrived around 7:10pm, it was the longest 5 minutes to the hospital ever and the noise from the serin didn't help. When we arrived at the hospital i was met by the
midwife who took my call.
I was taken through to the labour ward and put into a single room. There was many different professionals who were going to be
dealing with me and my baby. Once i was checked over by the
midwife the dr examined me and said that i was fully dilated and
that the baby was coming. Minutes passed but it felt like hours to
me.i felt the need to push and my waters burst. My hubby nearly passed out as my waters went everywhere including all over my
mil. After a few minutes again which felt like hours then all of a
sudden the drs where shouting prolasped cord and that an
emergency C-Section was needed. I was rushed from the labour
room to the theatre room while my hubby and mil was left in the labour room. In the theatre room i was giving this vile liquid to drink
i swallowed it and seconds later i vomited all over the midwife.
For what was classed as an emergency C-Section turned in to a palava. The drs were more concerned about my hair being tangled around the tubes than putting me under. I tried to sit up to untangle
my hair and tubes and was pushed back down. One dr even
suggested cutting my hair and to that my answer wasnt very polite. One dr kept on checking the cord and how the baby was i just lay there and worried about my little baby. I asked if the baby was
head down and the midwife said yes. Moments later the dr said to
me that the baby had died and that it would be better to deliver naturally at this point i gave up what was the point. i was all alone seconds later my hubby came in and the dr informed him of what
was happening. Around 5 minutes later baby was born at 20:35pm
on the 19th December 05. Our baby was taken over to a table where
5 people was with her a dr come over to us and said that our baby
was actually alive she just needed some help to breath and that we had a little girl.
Our daughter Paige Leigh was quickly taken to the neo-natal unit where a baby dr carried out a number of scans. Me, my hubby and
my mil stayed in the labour room until the baby dr came to see us.
The dr told us that Paige had some brain damaged that affected her brain stem which affects her breathing and that she has been put
on a ventolator. He also explained to us that her chances of
survival were very slim and that maybe we should consider turning her machines off. We told the dr that we had to think about it and
he left us. My hubby and mil left the room so the midwives could
get me cleaned up a bit so that we could go and see our precious
little Paige. At 10pm we went through to see Paige she was so
small but very very very cute. I decided that my mum should be
there so we tried to get a hold of her which was near impossible and
in the end decided that the police should go to her house and bring
her to the hospital. No-one thought of getting my hubbys dad.

Around 12am on 20th december 05 my mum arrived at the
hospital to see her little granddaughter and at this point we
decided to call in a preist. We spent time with our daughter and everyone was touching her and talking to her but i felt to scared to touch her at that point. At 1:00am the baby dr looking after Paige came to see us to inform us that paiges scans had shown that she
had suffered a brain haemorrhage and the best thing to do was to
turn her machines off so she could go. Our answer was still no we
want Paige to decide and we want to see if she would live until the morning. The preist arrived just before 1:30am to baptise Paige this lasted for 15 minutes. After the preist was finished my hubby took
my hand so we could touch paige together and about 5 mins later
the midwife said that Paige had made her mind up to go. we were
all taken to a room where our Paige joined us minutes later and still breathing. Paige was with me, daddy, nanna and her granny and everyone was giving her cuddles. Paige went to play with the angels
at 2:00am. Her family was with her at the time.We were taken through to a ward and put in a private room where we could spend some time with Paige. The midwives took photos of Paige on her
own and with us they also dressed her in a cute little white and pink dress and wrapped her in a pink and white shawl and put her in a moses basket. Paige stayed with us until we left the hospital on Tuesday night.

We visited paige-leigh a number of times while she was at the
hospital rest rooms and the funeral home. Still very precious and
as cute as she was from the very 1st momnet we saw her.
Christmas was very hard and very sad without our little princess
she was very missed by all. Just a couple of days before her funeral
we visited paige for one last time with her daddy, nanna and her granbo. it was a very sad time while we were there as her lid was
to be put on and who was to put this on her mammy. Her mammy
screwed in 3 of the screws ande her granbo screwed in 1. her
mammy put on 2 of the screw covers and her daddy, nanna and
granbo put on 1 each that was the last time we saw our little girls beautiful face.On Thursday 29th December we attended our little angels funeral. Her service was held at the funeral home which
was carried out by the minister who married us just over a year
early. Paige was final laid to rest in a cemetry not far from her
mammy and daddys house. Only a couple of days later Paige's
grave began to sink it was so upsetting and horrible having to visit
our little girl when things werent perfect. When the council
reopened after christmas we had to fight with them to get it sorted. Not long after the fixed her grave they moved Paige cross and
flowers from her grave and put them on top of someone else this made us so mad that we contacted our local paper especially when
one of the grave diggers told us they had to move her stuff so they could get a JCB in to dig the grave behind her. How dare they do
this to our little princess. paiges grave was returfed many times
weather this was to cover up things or to keep us happy we are
not sure and will never find out.


From granbo to paige
When i first was told i was going to be a grandad i was over the moon but of course i didn't let anyone see that. After a few weeks passed i had christened u elmo, my little elmo. Your mum and nanna kept saying elmo was to be a little girl but your dad and me said no elmo was a boy, someone had to be right didn't they. Anyway as
the months passed nanna and your mum joked about putting a boy
on ebay to sell or in my case a girl on ebay to sell, of course we
would never have done that, we wouldn't have been allowed anyway. Well one night your mum phoned and spoke to your nanna and off went nanna to the hospital and the next thing i knew i had call to say that elmo was a lovely little girl weighing only 1lb 5 and three quarter ounces. My message to your nanna was she will have to go on ebay then. But i was proud as punch and delighted to have my own little granddaughter even though she was so small. When nanna came home to tell me you had gone to play with the angels i was devastated and immediately came into the hospital to see you and of course your mum and dad. I held you in my arms and my only regret was that i had not been there before you went to play with
the angels. You will always be my little elmo no matter what anyone says and i will always love you with all my heart and never forget you. So my little elmo sleep tight and play well with your angel
friends.
I love you


A PRECIOUS GIFT FOR PAIGE-LEIGH FROM SHERYL (ALISON'S MAMMY)

BEREAVED PARENTS WISH LIST

I wish Paige hadn't died. I wish I had her back.

xxxxxxxxx

I wish you wouldn't be afraid to speak my child's name.
Paige lived and was very important to me.
I need to hear that she was
important to you also.

xxxxxxxxx

If I cry and get emotional when you talk about Paige,
I wish you
knew that it isn't because you have hurt me.
Paiges death is the cause of my tears.
You have talked about my child and you have
allowed me to share my grief.
I thank you for both.

xxxxxxxxxx

Being a bereaved parent is not contagious, so I wish you wouldn't
shy away from me.
I need you now more than ever.

xxxxxxxxxx

I need diversions, so I do want to hear about you, but I also want
you to hear about me.
I might be sad and I might cry, but I wish you
would let me talk about Paige; my favorite topic of the day.

xxxxxxxxxx

I know that you think of and pray for me often.
I also know that my
Paiges death pains you too.
I wish you would let me know these
things through a phone call, a card or note, or a real big hug.

xxxxxxxxxx

I wish you wouldn't expect my grief to be over.
These first years
are traumatic for me,
but I wish you could understand that my grief
will never be over.
I will suffer the death of Paige until the day
I die

xxxxxxxxxx

I am working hard in my recovery, but I wish you could understand
that I will never fully recover. I will always miss Paige and I
will always grieve that she is dead.

xxxxxxxxxx

I wish you wouldn't expect me "not to think about it" or "be
happy". Neither will happen for a very long time, so don't frustrate
yourself.

xxxxxxxxxx

I don't want to have a "Pity party", but I do wish you would let me
grieve. I must hurt before I can heal.

xxxxxxxxxx

I wish you understood how my life has shattered.
I know it is
miserable for you to be around me when I'm feeling miserable.
Please
be as patient with me as I am with you.

xxxxxxxxxx

When I say, "I'm doing okay", I wish you could understand that I
don't "feel" okay and that I struggle daily.

xxxxxxxxx

I wish you knew that all of the grief reactions I'm having are very
normal.
Depression, anger, hopelessness and overwhelming sadness are
all to be expected.
So please excuse me when I'm quiet and withdrawn
or irritable and cranky.

xxxxxxxxxx

Your advice to "take it one day at a time" is excellent advice.
However, a day is too much and too fast for me right now.
I wish you
could understand that I'm doing good to handle an hour at a time.

xxxxxxxxxx

Please excuse me if I seem rude, certainly not my intent.
Sometimes
the world around me goes too fast and I need to get off.
When I walk
away, I wish you would let me find a quiet place to spend time alone.
I wish you understood that grief changes people.
When Paige died,
a big part of me died with her. I am not the same person I was
before Paige died and I will never be that person again.

xxxxxxxxxx

I wish very much that you could understand ~ understand my loss and
my grief.
But, I pray daily that you will never understand


Valentine kisses

Hey Paige i send u kisses and bring u flowers on this very special day
that u will enjoy from heaven.

even though u r not here we can feel the love from u that u sprinkle down from the skies above.

tonight baby we know that u r here with us as we see the brightest star shinning through on us.

Even though u r not in our family home you r in the families hearts on this
very special day valentine days

we love u
Paige.


Our hearts broke when u left us here alone sweetheart
missing u daily


Mammy

A birthday hug and kiss especially for my mammy

All my love for my mammy and

even though my mammy

misses me heaps i

will send my mammy

double the amount of my

extra special magic fairy dust

so all of my mammys

wishes come true



blow out your candles mammy and i will make all your
wishes come true.



Open up all your presents mammy





Mammy did u have lots of balloons at your birthday.




mammy i hope you tried to have a good day i know you miss me lots
sending my mammy heaps of kisses on her very speical day.




and its still snowing there is at least 2 foot of snow lying
on the ground.




This is for you daddy

The look on ur face
the shock the suprise what did it all mean
when mammy told u we are having a baby
it was me all wrapped up waiting for
my special day to arrive

I couldn't wait to meet you
for a cuddle and rest in your arms
i could see u were ever so excited
Because I knew and you knew that I would be your little girl

Remember on that special day
When you heard my heart beating for the very 1st time
a tear drop in your eye
my heart beating just for you

I may have been so tiny
mammy felt me i was a very bouncy baby
I wanted to let you both know
that I loved you very very much

Then one day I woke up
only to see that i would be coming
ever so early
but that didn't matter cos
my daddy loves me

i was put in a incubator
still daddys little girl
i heard those special words that u use
i love you baby

that very same day i had a special visitor
who this was i will only know
but they invited me to live in a world with them
a place called heaven is where i went

I know you are very sad daddy
but please believe me i will wait for u and mammy 2
in my special place
cos im a daddys girl and always will be

i want you to know that
i look a lot like u
but i have mammys temper
and i know that i can be a devil
that is all 4 u

you might not see me when i first walk thats
cos im special
i jumped a stage cos i can fly
i was giving wings

they are very special wings
all pink and glittery
only special babies get them
and im very special cos
i belong to you

I dont yet know why my vistor came for me
maybe they were lonely
maybe they needed me around
they know that i miss my daddy ever so much

hey daddy i have big hugs and kisses
all of them just 4 u
and when you are feeling sad
just look around cos you will see me
sending those hugs and kisses

im a daddys girl causing trouble just for you
i love my daddy
hes very special to me
cos he is mine all mine and i dont have to share him



To my mammy


On this special mammy's day
your babies are not with you
in heaven that we are
missing our mammy

Our mammy is very special
there's is only one of her
and we might be heaven
but she is still our
mammy

Our mammy needs lots of
kisses and hugs
more today than ever before as
we are not with our mammy today
but we will be thinking of mammy

you are a very special
cos you are our
mammy



I wish

I wish my mammy was
here with me
i'm lonely and so is mammy
if she was here with me
she could hold me
kiss me and cuddle me

I have one mammy the one
that should be with me
i will only ever have one cos
my mammy will alway be
with me just not close to me

I really wish my mammy
was here then i could show
her how much i love her and i know
she loves me very much

my mammy is very special
for all my life
in my heart
xxx

I love you forever mammy sending you heaps of kisses and hugs


My Little Angel

Fly baby angel, fly baby angel
fly though the skies above
sprinkling your magic dust
on the world below

Baby angel you can sing
you can dance
you can do whatever you want
your a free spirit living in a
magic world above

You are special here, you are special there
you live in 2 worlds not many people can
you can cos your a special angel
you belong to us





Angel of my heart

I see you when im dreaming
I see you when im awake
I see you day and night
you are always with me baby

No-one knows how i feel and
if they did they would not
say they do
my heart breaks without you
in my life

When you were with me i
was happy
now your gone i feel so lost
and empty

My heart has been shattered
nothing can ever fix it
there is not enough glue in this
world to mend my
broken heart

My heart will never be
whole again
cos you will never be in
my life

i miss you so much my
baby angel
if i could take you back i
would take you in
an instance



The world moves on but in my little world everything has stopped cos
im here without you in my arms.
Today is the
8th April 2006


Today you should of been born but you came early just over 3
months ago and every day will still think of you and miss you even more. Paige - Leigh you were our miracle baby. You have a very special place in our hearts no-one can take it and no-one can fill it
it has your name inscribed so deeply Paige - Leigh. Today we
should be happy and overjoyed that our precious daughter arrived
so safely but inside we are torn apart that you left this world so
early . Mammy and Daddy and all your family miss you
very very much we all love you forever
Paige-Leigh

lots of love Mammy and Daddy





Even though it is suppose to be spring there is still snow falling occasionally in scotland. We had some very heavy snowfalls lasting
5 mins today (9th April 06)





lots of love

from

Mammy and Daddy







Nibbles is wrapped up like an Easter egg

Thumpy eats all my mummys flowers



Paige sweetie mammy and daddy miss u

more than words can say





You pick all the prettiest flowers in heavens garden with all of ur angels friends mammy and daddy love u paige.




To my family

When u see a star shining brightly
for all to see that is me
calling out for u
to see


when u see the raining falling
for every to see and feel
thats me letting u know that
im okay


when u see the shining moon
so round and bright
high in the sky
thats me letting u know im
sound a sleep safely on the
clouds above


when u see the snow falling
thats me letting
u know
that im having fun with
my friends in the clouds


when u see the sun shining
and u feel the heat thats
me letting u know that
im as pretty as a rose in u garden
and that u warm my heart


when u see the thunder and lightening
thats god been cross
cos all his good little angels
like me have been cheeky
and naughty but this u wont see very often
cos im very very very good
upo here in heavens garden


so when u see the stars shining ,
the rain falling,
the moon shining,
the snowing falling,
the sun shining
and even when u see
the thunder and lightening
u will all know thats its me letting u all
know that
i love u
4
eva more



Paige baby u r always in our hearts




having a break as playing in the clouds is very hard work



You left thousands of footprints in our hearts and those who love u






we love u for ever more in our hearts yesterday, in our hearts
today, in our hearts tomorrow, in our hearts for ever more.

You are in our hearts forever. we love u all the time we think of u
all the time
not a second goes past where u r not in out thoughs and hearts

we love you paige
love
mammy and daddy





when u left us paige u never went alone as part of us went with u darling.




u r our little star that shines so brightly in the night sky






HUGS ALL AROUND FOR OUR LITTLE PRINCESS THE DIMAOND IN THE
SKY IS THE DIMOND IN OUR HEARTS.
MAMMY, DADDY, GRANNY, NANNA AND GRANBO LOVE
U VERY MUCH SWEETIE




Its raining its pouring
the old mans snoring
paige is having fun
in heavens gardens
water fights all day and night.





18th June 2006


Father's Day

i love u

very much



catch my floaty kisses and

hugs daddy they are all for u

lots of love

your

princess

paige-leigh

xxxxx







19th June 2006

paige sweetie you are

6 months old

today




on the clouds u play

on the stars u sleep

watching over u precious family




we wonder every day

what u would be up to




paige you are




for life you are so precious to us




my family has so much love to share

with everyone i was made with love

and i will always be loved

by mammy and daddy




our lives will never be the same

cos our precious angel paige

is not in our home



in our hearts paige will live

forever




29th June 2006

Our precious little baby girl got her very

special stone today its very

pretty its a teddy bear peeking over the top

of the stone, paige-leighs

stone has pink writing as a little princess

derseves princess writing.




PAIGE-LEIGH HAS AN IMPORTANT ANNOUNCMENT TO MAKE




Paige-Leigh has told some family members about her mammy and daddys news with little letters.


Today is the 21st July 2006

Today our local council put up signs throughout the cemetery where our baby girl Paige-Leigh is buried.
They are being so insensitive they want all families to strip their loved ones graves of tributes. - why? - The council claim that windchimes are disrespectful to families who are attending someones funeral but wait
a minute the cemetery if underneath a flight path are they going to stop the planes flying over the cemtery during funerals - No!



All other items have to me removed due to health and safety reasons - Why? - no vaild reasons have been giving to us the grieving families. The council will only allowed families to have the headstone and one
suitable flower holder which must be made of stone or metal.

We have a lot of support from our local paper who
have cover the story over several days to get us some support we are so grateful for them doing this for all
the families involved. The council refuse to back down and so do we - dont we deserve some respect as
grieving families?



To date we have handed out several paper copies of a petition and we also have an online one currently running. Please feel free to sign this petition - you will find it at www.petitionthem.com under the heading
save our loved ones tributes. We are trying to get a public meeting together which is proving to be harder than we thought - Why? - the council dont want to
back down as they claim more families agree with only having a headstone at the graveside - we havent had anything in the papers about families being against us only for us.

We arent just doing this for our daughter we are doing this for everyone affected by these rules, we are doing
it for all families who want to leave tributes for their loved ones weather its their daughter, son, mam, dad, husband, wife, partner, uncle, aunt, niece, nephew, cousin, granparents, grandchild and friend.


For as long as we have support we will carrying on fighting for tributes to remain on gravesides.


8th August 2006

It was one year ago today that we

discovered u were coming into our world,

we were very scared as we had lost your

brother & sister in 2000 and we didnt want

to lose you too.

we were so happy that you were okay at

our scan appointments, we couldnt wait for

u to arriveWe got everything ready now we

were just waiting for u to come. You did

come and you were so perfect 10 little

fingers and 10 littletoes. The best bit of all

u belonged to me and daddy.


loving you always


PAIGE-LEIGH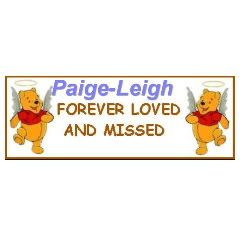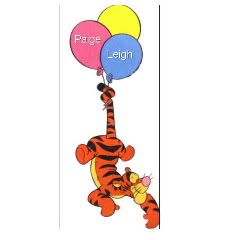 tigger is taking balloons to our little girl paige-leigh




tigger stayed the night with paige-leigh
cos its hard work carrying ballons all
the way to heaven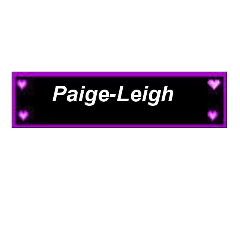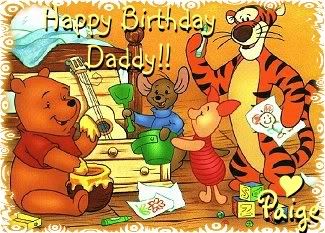 Today is daddys birthday
i am not there with him
but i am in his heart
on his special day

I miss my daddy lots
but no one sees that i do
my daddy misses me
everyone sees that

i wish i was with daddy
i could give him a cuddle but
instead i will send him
gentle feathers from my wings

if he dont see the feathers i will
wrap me wings all around him
then he will feel me
and all the love i have for him

i love you daddy
xxxxxxx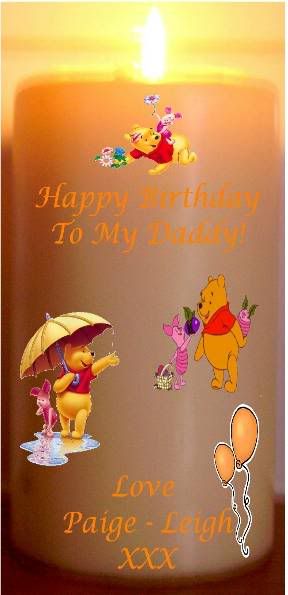 happy birthday to you
happy birthday to you
happy birthday to you
happy birthday to my daddy
happy birthday to you
xxxxx






Lots of people want to say happy birthday to my daddy
cos he special to me:-










The story below was written by all the mammies and daddies from
sands (stillbirth and neonatal death). It was written from the heart to all our very precious and cute babies. Please do not copy this story.






Once upon a time there was a beautiful little angel sat high above on a fluffy white cloud and all around there were the most beautiful
butterflies flying around. But this little angel had tears in her eyes, so
her angel friends came and sat with her and asked why she was
crying.

"I don't know why I'm here, something is missing," she replied.

So the little angel friends grabbed her by the hands and let her to a beautiful white water fountain and said, "Look into the fountain and
see what's missing" they smiled.

The angel looked into the water and saw her own reflection and her mummy and daddy sitting by a park. They were holding each other,
crying and talking about their little baby and wondering if she is safe
and well.

'Don't worry", she whispered and sent a little message upon a little
white feather. It said, Don't worry I'm fine. I could sense something
was missing but I see you now. When you feel the wind blow, or the sunshine on your cheek - it's me, remember me xx

The angel's mummy and daddy realised this was from their precious
baby and felt all the love of the world and a feeling of sadness. Yet warmth filled them too - of love that could only last a lifetime till they
met again in heaven.

The angel stepped back and turned to her angel friends, "I no longer
feel sad" she said to them "because I know I can come to the
fountain and see mummy and daddy to blow them kisses whenever I want; and whenever they're feeling sad that I'm not with them I will
send them a little sign that I love them very much and am always by
their side. I will send a rainbow to brighten their cloudy skies, and for
my brothers and sisters I will throw down white snow they can play
in. And to show my love I will drop a white feather from my wing
every now and again. I know I will always and forever have a place
in their hearts"

"My mummy and daddy are my favourite special people in the whole
wide world and our love will truly never end"

The oldest of the angels said out loud, "Think its time for a group hug" and then they hugged each other tightly.

"Thank you for showing me my Mummy and Daddy, but why have I left them?", she asked.

"You cannot leave them, for you are deep within their hearts - in every second of every day - always. Because you're too special for earth, so even though it hurts mummy and daddy you will not know pain and
one day your mummy and daddy will be with you and it is then that mummy and daddy and you will realise that"

The angels smiled at each other with knowing smiles.

So off they flew to look for more angels and found something so
beautiful and sparkly. They were all amazed at this. It was a magical
star that shone so bright and so big that the little angels were
stunned and speechless. They stood and looked and wondered
where something so beautiful could have come from.

It emerged into a beautiful lady, and each angel saw it as their mummy She began to sing "Rest your head and go to sleep......."

All the angels were so glad to see their mummy that they did a little dance on the clouds. They were all holding hands, dancing in circles
and giggling excitedly.

Mummy hugged her little angel and said proudly, "I can feel you all
around me and no matter where we are or what we're doing, you will always be by my side and I have some angels down here to help me. They give me hope when all seems lost. We're safe in the knowledge
that we never forget our sweet angels, giggling in the clouds - they'll always be a part of us, no matter where we are and not a day will go
by without me thinking of you sweet little one"

And so the little angels fell about on the clouds giggling before one
said, "But why does my mummy look so sad?"

Another angel replied, "Maybe it's because her heart still aches and
the angel said, "but I don't want my mummy to be sad"

"But she's not sad is she?", replied the angel's friend. "She's not sad because she will carry you in her heart wherever she may go, because your footprints are in her heart and a bond that strong can never be broken. You also need to remember that you are loved every second of every day and always will be, no matter what".

The little angel smiled and looked fondly at her angel friends and whispered, oh so softly, "I love my mummy and daddy", and thanked them for their help.

The oldest angel smiled, "You're very welcome little one. You will always - no matter what - have a place deep in their hearts and in their minds"

The little angel decided she needed to do something very important before taking her nap, so she raised her hand to her mouth and softly blew a heavenly kiss to her mummy and daddy.

The heavenly kiss floated down and all of a sudden the angel's
mummy and daddy felt the soft, gentle kiss land upon their cheeks,
and smiled to themselves thinking how lucky they are to have a
beautiful angel up above. The precious angel's mummy and daddy
looked up into the sky and felt thankful that they had been given such
a beautiful gift - a key to heaven.

They only wished that they could hold their precious baby in their
arms just one last time - in the knowledge that their angel is safe
and free from harm or pain and only feels the immense love sent to
them from their family on earth and all the other angels.

The angel's mummy and daddy let go of the balloons they were
holding and watched them soar far up into the bright blue sky,
shedding tears for what might have been.

All of the precious angels caught a balloon each and and took great comfort in the knowledge that they would always be remembered,
they all knew that although they were not on earth in person, they
were in everybody's hearts.

The little angel's mummy and daddy held hands and slowly wandered back to the main group of people - many of whom had become firm
friends through the Sands forum. Hopefully they would meet again at
the next balloon release.

The angels nestled into their clouds, safe and calm and glowing in the warmth of love from their mummies and daddies and snuggled to
sleep to dream of what might happen next. THE MUMMIES AND
DADDIES COULD GO HOME KNOWING THEIR PRECIOUS ANGELS WAS SAFE AND WELL AND THAT THEY LOVED THEM VERY MUCH.

THE END.




Autumn has arrived now its time to wrap up warm




Paige sleeps on the fluffyest every night




In our hearts for every more thinking of u always darling.




This is my mammy and daddys special day cos 2 years ago they got married. i was in mammys tummy this time last year and my little baby is in my mammys tummy this year waiting to arrive.





lots of love from your beautiful babies





Tonight is the night
the witches and ghost
comes to play
so lil ones be careful
for they are sure to scare you

dont be to scare for its
only tonight
lil ones u too cute
for any harm
the witches will be suprised
the ghosts wll be booless





Tonight our little angel
so perfect and pure
becames the little witch
that she can be
scaring those who in
the clouds above




The pumkin train arrives to pick up all up
who are we to scare tonight

you better watch out our angel
has became a lil devil
for one night only





from nibbles and thumper




Our angel is out to scare
wonder who will be 1st
on her list





give everyone a scare sweetie

lots of love from Nanna and Granbo




collecting lots of treats for

all my friends and me to eat




flying high tonight




paige-leigh
from ur lil baby





lots of love

from Granny Jen

be sure to scare
your family tonight
our little angel so beautiful





We love you baby hope u enjoy ur fun
tonight





our paige-leigh celebrates her 1st halloween in the clouds above
wish you were with us princess
we love you for ever more
lots of love from mammy and daddy
xxxxx





Decemeber should be a time of happyness but for us its a time of sadness as our precious baby daughter paige-leigh is not here. Up above our daughter lives her bed the fluffy clouds her night light the stars, how we wish she was in our family home with her mammy adn daddy and the rest of the family.




Awww look at the dancing snowman maybe my mammy will build me another snowman she made me one last time it snowed and i loved it very much.




Winnie the pooh and piglet are gettin ready for xmas. My daddy put up a xmas tree in their house and my mammy watched him as she was a bit sad cos im not there to help them its all pretty with lilac, pink and silver decorations on it, it has very special decorations on it that has my name on it paige.




ON THE 19TH OF DECEMEBER 2005 OUR PRECIOUS BABY GIRL ARRIVED SO BEAUTIFUL THAT SHE WAS A STAR SHE WAS TO BE. PAIGE-LEIGH WILL CELBRATE HER 1ST HEAVENLY BIRTHDAY WITH ALL HER FRIENDS AND FAMILY THAT HER IN THE CLOUDS WITH HER.




WE WISH YOU WERE HERE IN OUR HOME TO CELBRATE YOUR 1ST BIRTHDAY SWEETIE BUT WE KNOW THAT YOU WILL HAVE FUN IN THE CLOUDS ON YOUR SPECIAL DAY WE LOVE YOU VERY MUCH ALWAYS THINKING OF YOU BABY LOTS OF LOVE MAMMY AND DADDYXXXXXX





HEY BEAUTIFUL PAIGE-LEIGH YOU ARE ONE YEAR OLD NOW BET U CAUSING PLENTY OF TROUBLE AND KEEPING EVERYONE ON THEIR TOES HOPE U HAVE A GOOD BIRTHDAY IN HEAVEN WILL BE THINKING OF U SWEETIE LOVE U LOTS GRANNY XXXXXX




LOTS OF LOVE FROM ALL YOUR FAMILY XXX




WE MISS OUR LITTLE ELMO SO MUCH AND JUST WISH SHE WAS HERE WITH US ON HER BIRTHDAY, WE LOVE U SO MUCH DARLING IN OUR HEARTS FOREVER MORE LOVE NANNA AND GRANBO XXXXX




I HAVENT ARRIVED YET BUT I KNOW THAT YOU HAVE BEEN LOOKING AFTER ME AND MY MAMMY AND DADDY AND I KNOW THAT YOU ARE MY VERY SPECIAL SISITER COS MAMMY AND DADDY TALK ABOUT YOU ALL THE TIME LOVE YOUR LIL BABY PEANUT XXXXXX




POOH BEAR FLYING HIGH WITH ALL PAIGES KISSES XXXX





Paige got lots of flowers and gifts on her 1st heavenly birthday




paige got lots of balloons from her mammy, daddy, nanna, granbo, granny and her lil baby penaut xxxx




Paige got lots of flowers from all her family
she is love so much xxxx




Paiges cards and gifts from family xxxx






Teardrops fall every day for our precious lil girl Paige-leigh
we love her so much that if only one wish could allow her back
her family would have paige her in an instant we
love her so much.





Paige-leigh's familys heart broke one year ago they will never mend fully as our precious girl is not here in our home in our hearts Paige-leigh shall live always and forever xxxxx.




Paige darling we love you and miss u so much we really hope u enjoy ur xmas day in heaven sweet heart wishing u were here to spend xmas with ur family sending u special kisses from all of us
xxxxxxxxxx




Our lil girls garden on xmas day




Our paiges xmas cards on xmas day






Paige-leigh sent us an amazing gift, to be pregnant so soon after
losing paige was hurtful we had only just lost paige and was still grieving for her how were we suppose to cope with everything.
it was extremely hard we kept the pregnancy to ourselves we only told our parents when paiges daddy was admitted to hospital with
a bad asthma attack by this time i was over 4 months pregnant the
rest of our family and friends found out after our 20 week scan. Its
not easy being pregnant and greiving for our daughter its so
hard and such an emotional rollercoaster but paige wanted us to
have a little babby and if we couldnt have her she was to send
us one and she didi that in her special own way. paiges lil baby was concieved on paiges due date was this the 1st sign of how things were goning to be and that everything was going to be okay. We were very nervous and emotional throughout the whole pregnancy and spent alot time of worrying weather or not we were gonna take a baby home this time as every other pregnancy had left has heartbroken and we couldnt bare for that to happen again when we were still so heartbroken about our little princess paige. As we came into december i started to panic that the baby would come on paiges birthday or the day that she died or even the day she was buried i didnt want the new baby to come on this dates these were paiges dates, we had asked our consultant if i could be induced but he said no as he didnt want to prolong my labour. the closer we got to paiges birthday the more i freaked out, paiges birthday and her anniversary of her death came and went so did chrimas day, only one more day to get through the 29th december the day we buried paige-leigh. on the eve of the 28th/early hours of the 29th paiges daddy saw flashing lights in our living while he was watching tv, he never mentioned these lights to me when he came to bed. When i woke at 7.30am i saw a light in our bedroom then i noticed i had a sore belly thinking it was the bug that all the family seem to have got i phoned our parents to see what a contraction felt like. after 3 hrs i had some blood which totally freaked me out. my labour this time had started excatly like paiges did i was unaware i was in labour, i had a quick and easy deliverly and paiges little sister Summer Paige enter the world at 12.31pm on the 29th december 2006 excatly one year and one minute to the day that we buried our 1st beautiful and precious little girl paige-leigh. paige really did send us a precious gift paige just had to make sure summer arrived in the world at the right time just like paige made sure her lil baby arrived in mammys tummy on a special day too.



Paige-Leighs little sister Summer Paige





Our beautiful Girls together




A new year with the same heart ache our beautiful baby girl
is not with us but she sent us a gift from above to take into the newyear with us paige gave us her little sister
xxxxx





Febuary is the month of love for most but for you darling paige
every month is the month of love and you have all of mine
darling xxx




mammy and daddy miss you so much
you our very precious baby always
xxxx




you are always our valentine girl paige xxx




we love you so much we miss you so much babe xxx





PAIGE-LEIGH OUR PRECIOUS LITTLE GIRL




over the rainbow our precious paige lives looking for the pot of gold that she will discover with all her friends



sending my mammy & daddy lots
of luck n love from the clouds above




sending the goodluck charm to mammy & daddy




loving you each and ever day precious love mammy and daddy.




hunting down all the easter eggs thats our baby girl.




i love you paige giggles from ur sister summer




mammy love her special baby girl




daddy loves his special princess




sending u losts of kisses and hugs on easter sunday darling love mammy and daddy and summer in our hearts always paige-leigh our beautiful baby daughter.


Hello daddy today is your special day
IT'S DADDY'S DAY

so today i send u my
love and sprinkle u in
fairy dust cos for u
i send u heavenly kisses
and touch u ever so gentle
for im always around u
but today even more so

i love you so much daddy

kisses for paige-leigh to u daddy xxx

Happy 2nd heavenly Halloween


2nite is the night when lil wiches and gouls come
to play meeting toward on a spooky cloud
thinking of treats
making tricks

to scare all the earthly girls n boys

i hear u shout


BOO!!







Pumkins lite so brightly just for u

candles burning all nite long

happy halloween sweetie

lots of love mammy, daddy and lil sister summer
xxxxxxxxxxxxxxxxxxxxxxxxxx





Bouncing in to shout have a sppoky evening baby girl paige-leigh xx







Autumn is here leaves and changing

falling from high above

rustling and crunching on the footpath

wonderful noises for all to hear






Trees blowing, winds howling

the sounds of angels playing up above




we love u paige-leigh all year round xxx




Our little Angel getting ready for Christmas




Angels singing, Angels Playing




Our Angel is always good theres is no bad angels




Our 3rd Christmas without u in our home darling but in
our hearts u will always be




Im gonna build a snowman
gonna build it with love
pack it with wishes and dreams
and send it to my Angel
PAIGE-LEIGH




Lots of love from
mammy, daddy
summy & baby jellie
xxxxxxx




Tinkerbell flutters to heaven to
wish our baby girl happy birthday
xxxxxxxxxxxxxx




A Yummy Cake For Paige-Leigh




A Present for our Prefect princess




Balloons floating to heavens skies





NO MATTER HOW MANY BIRTHDAYS YOU HAVE U WILL
ALWAYS BE THOUGHT OF AND LOVE SO MUCH

YOU MEAN SO MUCH TO US ALL AND A PLACE IN OUR HEARTS
WILL ALWAYS BELONG TO YOU DARLING

ALTHOUGH WE CANT CELBRATE YOUR
2ND BIRTHDAY WITH U

WE WILL CELEBRATE U
PAIGE-LEIGH

ALL OUR LOVE
MAMMY, DADDY SUMMY AND BABY BUMP JELLIE
XXXXXXXXXXXXXXXXX


REMEBERING YOU




ON YOUR ANGEL DAY

20/12/2005


CHRISTMAS DAY





SANTA HAS BEEN HES VISITED ALL
OUR ANGELS

PAIGE-LEIGH U WERE VERY GOOD THIS YEAR
UVE GOOD LOTS OF PRESENTS UNDER THE TREE

OUR VERY SPECIAL BABY GIRL
ALWAY IN OUR HEARTS




U ARE THE BEST GIFT HUNNI THEN U DELIVERED US
ANOTHER GIFT OF LOVE.




ALWAY SON OUR MIND AND
IN OUR THOUGHTS SWEETIE
XXXXXXXXX






ANOTHER YEAR WITHOUT OUR LITTLE PRINCESS IN OUR HOME
ANOTHER YEAR OF HEARTACHE AND PAIN
ANOTHER YEAR AS PAST




HAPPY NEW YEAR PRINCESS WE LOVE U SO MUCH

HAVE MILLIONS OF FUN WITH ALL UR FRIENDS


Our Little Lovebug Always n Forever



Alway in our thoughts babe
we always thinking of u paige-leigh
your our special wee girl always
Happy Valentine's Day Paige-Leigh
Loving you Always
xxxxxxx
Febuary Thursday 14th 2008
In Our Hearts
xxxxxx



Please visit my angel friends
at
www.jack-cameron.memory-of.com
www.cameron-weadock.memory-of.com
www.jessica-szydelko.memory-of.com
www.albie-turner.memory-of.com
www.keavey-louise-hopper.memory-of.com
www.ryanhill.memory-of.com
www.kaydeeboo.memory-of.com
www.david-stephen-daniel.memory-of.com
www.freewebs.com/aimeeandhayleysplace
www.john-cavote.memory-of.com
www.geocities.com/mummy2alison
www.josephhadley.memory-of.com
www.ellamae-gleed.memory-of.com
www.oscar-avery.memory-of.com
www.riley-herbertevans.memory-of.com
www.reeceedwards.memory-of.com
www.harveybax.memory-of.com
www.oliver-jason-hutchinson.memory-of.com
www.totsites.com/tot/babybailey
benjamin-stewart.gonetoosoon.co.uk
kayden-durant.memory-of.com
kori-hubber.memory-of.com

they are very special to me and
their mammy and daddy miss them very much
just like my mammy and daddy miss me
lots of love
Paige - Leigh

All the poems on this webpage was written by Sarah (excluding bereaved parents wish list) if u want to copy them please get permission 1st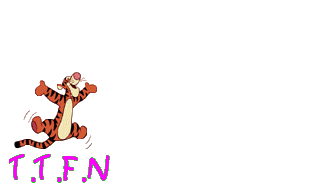 Please take a moment to light a candle or leave a message for our daughter. this lets us know whose has visited her site and it lets us knowthat you thought of our daughter.